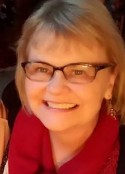 I grew up in East TN. I have a Bachelor's degree in Sociology from Lincoln Memorial University and a Master's degree in Public Administration from Tennessee State University. I worked for the State of Tennessee in various positions and departments for 36 years and retired as a Policy Coordinator from the Department of Developmental and Intellectual Disabilities.
I have been a Presbyterian for my adult life and was an elder at a previous church. I have been a member of DPC since 2005. I was trained as a Stephen minister at DPC and have served on the Personnel and Worship committees.
I am a graduate of Leadership Donelson Hermitage (L'Evate) M3 and Metro Nashville's Citizen Police Academy. I participate in various activities and volunteer work in the Donelson community. My leisure activities include going to movies and reading. I am a member of 2 local book clubs. My husband, Richard and I enjoy traveling and spending time with family and friends and our 2 Havanese dogs.
---