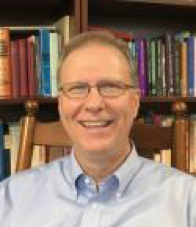 I was born and raised on a farm in southern Indiana. I attended Indiana University and Lipscomb University, graduating from Lipscomb with a B.A. in English and minors in chemistry and Bible. I received M.A. and M.Div. degrees from Abilene Christian University, and the Ph.D. in systematic theology from Marquette University. During my years at Marquette, I was adjunct professor of theology at Marian University in Fond du Lac, Wisconsin. With over twenty-five years of experience in ministry, I have served churches in Indiana, Texas, New York, and Tennessee. I have served Donelson Presbyterian Church for over fifteen years.
I believe that God speaks to us especially in stories. I love hearing stories and telling how God has worked in the lives of people. The essential message of the Bible is that God is the spirit of love we see in the story of the Exodus, and in the story of the cross and resurrection of Jesus Christ. While struggling with doubt throughout life, these stories of love continue to bring me hope.
I love music, and enjoy listening to everything from Mozart to Flatt and Scruggs to the Beatles to Best Coast. I am a member of the Nashville Old-Time String Band Association. I enjoy playing guitar, hiking, reading, and spending time with my wife Nancy and my daughter Colleen.
---